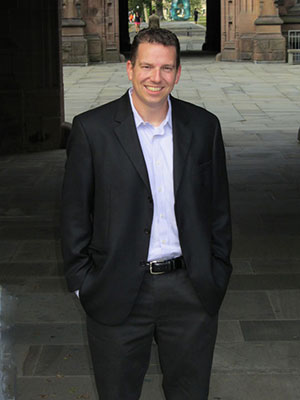 Kevin M. Kruse is a Professor of History at Princeton University. He specializes in the political, social, and urban/suburban history of twentieth-century America, with a particular interest in conflicts over race, rights and religion and the making of modern conservatism.
His most recent book, One Nation Under God: How Corporate America Invented Christian America, published by Basic Books in April 2015, investigates the making and meaning of American religious nationalism in the mid-twentieth century.
Kevin has discussed One Nation Under God in feature interviews on NPR's Fresh Air with Terry Gross, WNYC's Brian Lehrer Show, KCRW's To the Point with Warren Olney, KPFA's Letters and Politics, Sirius XM's Majority Report with Sam Seder, BBC World Service's Business Matters, ABC Australia's Religion and Ethics Report, C-SPAN's Book TV and Politicking with Larry King, among others. The book has been reviewed in the New York Times Book Review, the Wall Street Journal, the Washington Post, The New Republic, The Nation, Foreign Affairs, and many more.
Kevin is also the author of White Flight: Atlanta and the Making of Modern Conservatism, published by Princeton University Press in 2005. That book won prizes including the 2007 Francis B. Simkins Award from the Southern Historical Association (for the best first book in the field of Southern history, 2005-2006) and the 2007 Best Book Award in Urban Politics from the American Political Science Association.
In addition, he has co-edited three essay collections: The New Suburban History (University of Chicago Press, 2006), with Thomas Sugrue; Spaces of the Modern City (Princeton University Press, 2008), with Gyan Prakash; and Fog of War: The Second World War and the Civil Rights Movement (Oxford University Press, 2012) with Stephen Tuck. He has been honored as one of America's top young "Innovators in the Arts and Sciences" by the Smithsonian Magazine, selected as one of the top young historians in the country by the History News Network, and named a Distinguished Lecturer by the Organization of American Historians.
A Nashville native and an alumnus of the University of North Carolina-Chapel Hill, Kevin went on to earn his MA and Ph.D. from Cornell University in 2000. He lives in Princeton, New Jersey, with his family.